Kate Doran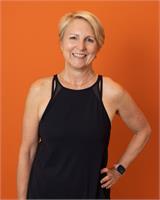 Certified Baptiste Power Vinyasa Teacher, RYT500
Kate started practicing yoga in 1998 to balance out the physical stress of her running habit and the mental stress of working in the software industry. During the years since, she has turned a weekend hobby into her vocation. With more than 1,000 hours of teacher training under her belt, Kate brings a breadth of experience to her teaching.
Primary Training:
Baron Baptiste - Level 1, Level 2, Level 3, GREAT Assisting Program, Art of Assisting, BADASS Master of Teaching Program, 2009-2015
Mark White - Teacher Certification Program - 200 Hours 2009
David Swenson Ashtanga Yoga Teacher Training - 40 Hours, 2008
Ashtanga Yoga Research Institute Mysore, India, 2008
Silver Age Yoga Certification, 2007
Asheville Yoga Center - 200 Hours, 2006
Kate Doran instructs the following:
This class will teach you the fundamental poses and breathing techniques used in all of our power yoga classes. If you are new to the practice, looking to fine-tune some of your poses, and/or you want a slower paced flow - this is a great class for you! This class is heated to 90 degrees.




In this class you will find stillness in power, then experience the power in stillness. There will be an equal blend of flow and deep stretching. This class is heated.




Join us on a 40 Day journey into yoga, meditation, conscious eating and self-inquiry. This program, based upon Baron Baptiste's

40 Days to a Personal Revolution

, will take new students as well as long-time yoga practitioners to a new level. You will develop a daily yoga and meditation practice. Through conscious eating, you'll explore how foods affect your body and your attitude. Together we'll engage in journaling and other exercises to peel back the layers and begin to see our own true nature.

Practice: Attend yoga classes 3-6 days/week (or do podcasts at home).

Meditation: Start with 5 minutes a day and build up to 30 minutes by the end of the program. Online Podcasts will be available to help guide you through the process.

Weekly Meetings: We will gather together to practice, meditate, journal, check-in, and receive personal and group support during the program. Mondays 7:30 PM-8:30 PM.

Food Cleanse: Build and maintain a new dietary awareness, learn how foods affect you mind and body, and participate in a mini-cleanse.

Cost: $175 before March 20th, $225 after.

The program fee includes 40 days of unlimited yoga classes, a 40 Day Workbook, weekly podcasts to support your yoga and meditation practices, and 6 weekly meetings.

** current unlimited pass holders may pay $100 to participate in the program **

The book

40 Days to a Personal Revolution

is available for purchase at SPY.

This program is limited to 30 students.

Cancellation Policy:
No refunds. We will issue a store credit if you notify us in writing/email at least 24 hours before the the first meeting.




In just one hour you will stretch your muscles, build strength, find your balance, open your hips, get upside down and enjoy some stillness. You will leave feeling refreshed and invigorated. This class is suitable for all levels - from raw beginners to experienced yogis. This class is heated to 90 degrees.




Please join us for 15 minutes of stillness and meditation.




This class is designed to move and stretch your body at a slower pace. If you are looking for a class without any jumping or fancy arm balances, this is the class for you. We do not heat the room during this practice.




What does it take to be a great yoga teacher? It's not flexibility, perfect poses, or fancy Sanskrit terminology.

What makes a great yoga teacher is LOVE for the practice. What our yoga teacher training programs will do is help you tap into your ability to powerfully SHARE YOUR LOVE with others.

Savannah Power Yoga's unique 100, 200, and 300 Hour training programs are limited to 16 students to make sure each and every student is mentored and coached both during and after the program.

Come in for a FREE Power Hour at 8:15am Friday morning and then join the SPY teacher training faculty for an overview of the programs and a chance to ask questions.

Our next training program begins June 9th.

Read more here : http://savannahpoweryoga.com/teacher-training-programs.