Kate Doran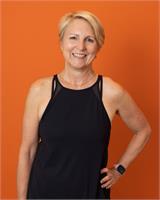 Certified Baptiste Power Vinyasa Teacher, RYT500
Kate started practicing yoga in 1998 to balance out the physical stress of her running habit and the mental stress of working in the software industry. During the years since, she has turned a weekend hobby into her vocation. With more than 1,000 hours of teacher training under her belt, Kate brings a breadth of experience to her teaching.
Primary Training:
Baron Baptiste - Level 1, Level 2, Level 3, GREAT Assisting Program, Art of Assisting, BADASS Master of Teaching Program, 2009-2015
Mark White - Teacher Certification Program - 200 Hours 2009
David Swenson Ashtanga Yoga Teacher Training - 40 Hours, 2008
Ashtanga Yoga Research Institute Mysore, India, 2008
Silver Age Yoga Certification, 2007
Asheville Yoga Center - 200 Hours, 2006
Kate Doran instructs the following:
If you are looking for a practice that will challenge you physically and mentally, this is the class for you. These 75-90 minutes classes will stretch and strengthen your body, and cultivate balance. You will be wrung out and then juiced back up, ready to face any challenge that comes your way. This class is heated to 90 degrees.




This class will teach you the fundamental poses and breathing techniques used in all of our power yoga classes. If you are new to the practice, looking to fine-tune some of your poses, and/or you want a slower paced flow - this is a great class for you! This class is heated to 90 degrees.




Please join us for 15 minutes of stillness and meditation.




In this class you will find stillness in power, then experience the power in stillness. There will be an equal blend of flow and deep stretching. This class is heated.