Biza Mabry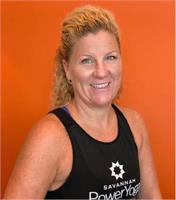 RYT 200
Biza took her 1st yoga class 6 years ago and thought it was slow and boring. She decided yoga was not her thing. Biza is a cardio junky. She has been teaching aerobics for 5 years, TRX for 3 years and a personal trainer for 3 years, Biza is also an avid runner. She loves to sweat and get her heart pumping. When SPY opened friends told her that she would love it. After arguing that she would not she decided to give it a try. Well, the rest is history. Biza was hooked. Not only was she sweating and getting her heart pumping she discovered that there was much more. It opened her heart. She has learned to control situations that she could not control before just by breathing and not reacting. Stepping back and finding joy in things that are not always joyful.
200hr Advanced Vinyasa Teacher Training with Kate Taylor
Level 1 Training with Baron Baptiste
level 2 Training with Baron Baptiste
Art of Assisting
Breakthrough Weekend with Mark White

IFTA fitness instructor
IFTA personal trainer
FITTBARR instructor
Biza Mabry instructs the following:
In just one hour you will stretch your muscles, build strength, find your balance, open your hips, get upside down and enjoy some stillness. You will leave feeling refreshed and invigorated. This class is suitable for all levels - from raw beginners to experienced yogis. This class is heated to 90 degrees.




Power Yoga meets bursts of cardio. This class incorporates high intensity moves like squat jumps, lunges, and burpees within our Baptiste Power Vinyasa Yoga sequence. This class WILL kick your asana.




In just 45 minutes we will move through our entire Baptiste Power Yoga sequence. We'll move quickly, and may even play some music. This class is heated to 90 degrees. Recommended for experienced yogis.




If you are looking for a practice that will challenge you physically and mentally, this is the class for you. These 75-90 minutes classes will stretch and strengthen your body, and cultivate balance. You will be wrung out and then juiced back up, ready to face any challenge that comes your way. This class is heated to 90 degrees.