Kim Norvell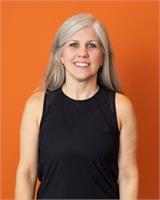 E-RYT 200
Certified Baptiste Teacher
Kim was introduced to yoga for the first time in February 2011 by a roller derby teammate. After years of wanting to try yoga, she agreed to attend a class. It was exactly what she needed to balance out her Type A personality and passion for a female aggressive sport. She quickly discovered that a regular Baptiste Power Yoga practice not only suited her physically, but transformed her mental state as well, allowing her to find a more peaceful and loving way of life.
Primary Training:

Baron Baptiste - Level 1 Training and Art of Assisting, 2013
Level 2 Training, 2014
Advanced Art of Assisting and Level 3 Training, 2015

Kate Taylor - Advanced Vinyasa Teacher Training Program, 2012
Kim Norvell instructs the following:
Every once in a while its nice to add some music to guide your flow. Join us for a Power Hour class with a splash or more of music!




In just one hour you will stretch your muscles, build strength, find your balance, open your hips, get upside down and enjoy some stillness. You will leave feeling refreshed and invigorated. This class is suitable for all levels - from raw beginners to experienced yogis. This class is heated to 90 degrees.




This class will teach you the fundamental poses and breathing techniques used in all of our power yoga classes. If you are new to the practice, looking to fine-tune some of your poses, and/or you want a slower paced flow - this is a great class for you! This class is heated to 90 degrees.




In just 45 minutes we will move through our entire Baptiste Power Yoga sequence. We'll move quickly, and may even play some music. This class is heated to 90 degrees. Recommended for experienced yogis.




If you are looking for a practice that will challenge you physically and mentally, this is the class for you. These 75-90 minutes classes will stretch and strengthen your body, and cultivate balance. You will be wrung out and then juiced back up, ready to face any challenge that comes your way. This class is heated to 90 degrees.




This heated 75-90 minute class follows a traditional Baptiste Power Yoga sequence. You will move and sweat and feel energized when you are done!

Community Class Price: $8 or you can use your unlimited class pass.




Foundations 2 will explore the standing, twisting and balancing poses of in our power yoga practice. We will investigate how using strong alignment tools can create a space and freedom. We will look at the commonality between the standing poses and the balancing poses and learn the tools to create a sense of calm even when you are at your physical edge.

Suitable for both experienced students looking to tune their practice and new students who want to learn from scratch.

$20 in advance | $25 day of
$36 for Foundations 1 & 2

Workshop fees are non-refundable but the purchase price may be put toward any other purchase at SPY, if you cancel with at least 24 hours notice.

Money tight? We offer scholarships! Email jane@savannahpoweryoga.com for more information.