Sue Finkle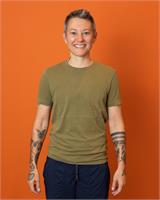 RYT 200
Substitute Teacher
Yoga was an instrumental tool that helped Sue decide to leave a 10 year career in Marine Biology and walk into the unknown. She became a yoga instructor within a year of opening this new chapter. For Sue, yoga allowed her to be more in touch with her heart. From there on, she was able to make decisions by listening to her heart and not based on fear, an incredibly powerful and liberating awakening. A few years later, Sue found the Baptiste Power Flow practice. And, shall we say, the rest is history!
Kate Taylor – 100 Advanced Vinyasa Teacher Training, 2012
Savannah Yoga Center - 200 hour Teacher Training Certification, 2009
Sue Finkle is currently not instructing any classes.