Constance Gabrielli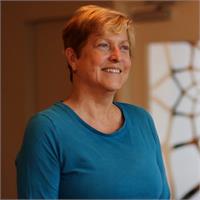 RYT 500 Certified Teacher
Con took her first yoga class in 2004 at her gym to see what all the fuss was about. It looked like it might be a change from her usual workout. As a lifelong sceptic she wasn't expecting to like it. She came out of that first class totally relaxed and she was hooked.
Con found a yoga studio and started regular classes. By 2008 she signed up for 200 hour teacher training. She was by far the oldest student. In 2009 she started teaching Baby Boomers and Seniors showing them ways to increase flexibility and improve balance. Her mission to keep the aging population strong and healthy.
When Kate opened SPY, Con followed her there and took the first Advanced Teacher Training adding another 100 hours to her resume.
Con has led yoga retreats in France and spent a month in 2012 in India. After years of struggling with meditation and the more spiritual side of yoga, Con has plunged into the deep end of the pool and come up smiling.
She completed a 28 day meditation with Sally Kempton the summer of 2012 and took private meditation and nidra classes in India. The journey continues here at SPY with meditation, pranayama and yoga nidra classes. Con invites everyone to come along.
Constance Gabrielli instructs the following:
This class will teach you the fundamental poses and breathing techniques used in all of our power yoga classes. If you are new to the practice, looking to fine-tune some of your poses, and/or you want a slower paced flow - this is a great class for you! This class is heated to 90 degrees.




Please join us for 15 minutes of stillness and meditation.




This 60 minute class will take you on a journey into deep relaxation. You will learn the tools to help you meditate more easily and find equanimity.

Through the breath work of Pranayama you will begin to still the inner chatter. Through guided meditation you begin to learn how to release and free yourself of negative thought patterns. With Yoga Nidra you will experience a deep relaxation beyond the Savasana that ends most yoga classes.

Community Class Price: $8 or you can use your unlimited class pass.




This class is designed to move and stretch your body at a slower pace. If you are looking for a class without any jumping or fancy arm balances, this is the class for you. We do not heat the room during this practice.




In this class you will find stillness in power, then experience the power in stillness. There will be an equal blend of flow and deep stretching. This class is heated.