Catherine Mulligan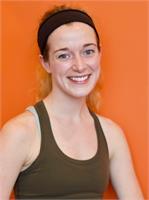 Catherine was introduced to yoga at age 14 as a ballet dancer at Savannah Arts Academy. She quickly fell in love with the movement and philosophy of yoga. At age 16, she earned her first teaching certification and began teaching yoga classes in the dance room after school.
The practice of yoga has undoubtedly been the greatest gift in Catherine's life. The continued impact yoga makes in her way of being is the "why" behind her teachings. The value of the practice is so high that it would be wrong not to share it.
Training/Certifications:
- YogaEd Training for At-Risk Youth and Adults with Hala Khouri, Savannah Yoga Center 2010
- Advanced Vinyasa Yoga Teacher Training with Kate Doran, Savannah Power Yoga 2013
- Prison Yoga Project Teacher Training with James Fox, Asheville Yoga Center 2014
- Art of Assisting with the Baptiste Institute, Savannah Power Yoga 2014
- Master Teaching Apprentice Program, Dancing Dogs Yoga 2015
- EDGE Teacher Training, Dancing Dogs Yoga 2015
- Mindfulosophy: Purpose and Practice, lululemon athletica 2017
Catherine Mulligan is currently not instructing any classes.