Hillary Nielsen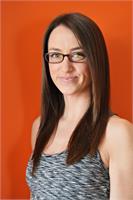 Teacher, RYT 500
Hillary "accidentally" found yoga after a last-minute schedule change at her gym swapped yoga for the class she was planning to attend. She was recovering from a back injury and hadn't been able to be active in the ways she was used to, but yoga opened her eyes to a physical practice her body would thank her for.
Hillary graduated from SPY's teacher training program in November 2014. She brings joy and passion to her teaching, along with a genuine desire to help others experience their own exciting journey--both on and off their mats.
Hillary Nielsen instructs the following:
This class will teach you the fundamental poses and breathing techniques used in all of our power yoga classes. If you are new to the practice, looking to fine-tune some of your poses, and/or you want a slower paced flow - this is a great class for you! This class is heated to 90 degrees.




This class is designed to move and stretch your body at a slower pace. If you are looking for a class without any jumping or fancy arm balances, this is the class for you. We do not heat the room during this practice.




Please join us for 15 minutes of stillness and meditation.