Katherine Johnson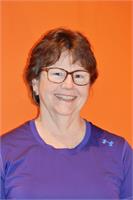 Substitute Teacher, RYT 500
Katherine came to yoga in her retirement after 30+ years as an educator. She started out on the WiiFit, progressed to DVD's and finally made it to her first Gentle class at Savannah Power Yoga almost four years ago. One thing led to another and she decided to enroll in the teacher training program. Katherine wants to share her love of yoga with others.
In addition to yoga, Katherine is an avid gardener, enjoys cooking and entertaining, and likes to travel when she can. She is devoted to her husband of 43 years, her two sons and daughter-in-law, and her new granddaughter. Her dog, Augie, holds a special place in her heart. She believes that everyone can benefit from the joys of yoga. Who knew??? At 60+ years old, Katherine has found a new passion in life. She has also found a new home-away-from-home at Spry and Savannah Power Yoga.
Katherine Johnson is currently not instructing any classes.