Emily Strickland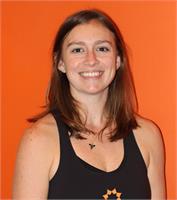 Emily started practicing yoga at her local YMCA when she was in high school and fell in love with the practice. Since then her practice has continued to grow and she began teaching in 2012.
Primary Training:
Savannah Yoga Center 200Hr RYT in 2011
Paddle Into Fitness Weekend SUP Yoga Certification in 2012
Savannah Power Yoga 100Hr Advanced Vinyasa Teacher Training in 2015
Emily Strickland instructs the following:
Every once in a while its nice to add some music to guide your flow. Join us for a Power Hour class with a splash or more of music!




This class will teach you the fundamental poses and breathing techniques used in all of our power yoga classes. If you are new to the practice, looking to fine-tune some of your poses, and/or you want a slower paced flow - this is a great class for you! This class is heated to 90 degrees.




If you are looking for a practice that will challenge you physically and mentally, this is the class for you. These 75-90 minutes classes will stretch and strengthen your body, and cultivate balance. You will be wrung out and then juiced back up, ready to face any challenge that comes your way. This class is heated to 90 degrees.




Please join us for 15 minutes of stillness and meditation.