Emily Bowser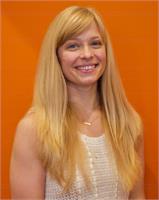 Emily's first experience with yoga was the class she never attended – she was too scared to walk through the door. The following day she returned and kept coming back day after day. Years later, she is still just as in love with this practice as when she first began. Emily also loves spending time with her family, making art, swimming in the ocean and dancing in her living room.
Primary Training:
Power Yoga Works - 200 Hr Training, 2014
Childlight Yoga &Mindfulness for Children - 18 Hr Training, 2014
Shri Yoga & Wellness Center – 50Hr Yoga Immersion, 2014
Savannah Power Yoga - 100Hr Advanced Vinyasa Teacher Training, 2017
Emily Bowser instructs the following:
In just one hour you will stretch your muscles, build strength, find your balance, open your hips, get upside down and enjoy some stillness. You will leave feeling refreshed and invigorated. This class is suitable for all levels - from raw beginners to experienced yogis. This class is heated to 90 degrees.




In this class you will find stillness in power, then experience the power in stillness. There will be an equal blend of flow and deep stretching. This class is heated.




This class will teach you the fundamental poses and breathing techniques used in all of our power yoga classes. If you are new to the practice, looking to fine-tune some of your poses, and/or you want a slower paced flow - this is a great class for you! This class is heated to 90 degrees.




Every once in a while its nice to add some music to guide your flow. Join us for a Power Hour class with a splash or more of music!