Liz Howard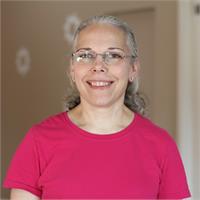 RYT 200
Teacher
When she's not practicing yoga, Liz loves to walk with her dog and husband of 34 years and dog. She's been a Registered Nurse since 1992 and an International Board Certified Lactation Consultant since 1997, and enjoys helping families breastfeed as a Red Cross Volunteer at Winn Army Community Hospital. She also loves to read and listen to audiobooks, mostly nonfiction.
Primary Yoga Training
SPY Power Vinyasa Teacher Training - 200 Hours
Spry Mind+Body Teacher Training

Liz Howard instructs the following:
This class is perfect if you have trouble getting up and down from the floor and still want to build strength, flexibility, and balance.

We will start with breath exercises then stretch and strengthen the upper and lower body. We then move to some standing poses, using the chair for support while we build even more strength and balance. We finish sitting in the chair, performing a few more hip stretches. We always end with a few minutes of stillness.

In this class we follow the Spry Mind+Body Blueprint. Together, we will quiet our minds, and build strength and flexibility throughout our entire body.